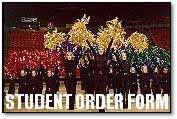 ADTS Student Order Form
Order patches, Academic All American & more
View samples of patches online here
Download a copy of all patches here
Complete and print Student Order Form
for patch orders and Academic All American.
Send in form with payment and patches will be shipped within 48 hours of receiving the order.


FormSwift is a project focused on creating personal and legal templates that are customizable, easy to use, and highly professional. For select businesses and organizations, including schools, non-profits, and athletic associations, we offer a tailored set of free services, such as customized e-signature forms for any PDF.