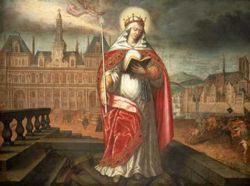 St Genevieve, the saint of disasters
The National Council of Dance, called a special meeting of the participating companies, on October 9, 2008, to discuss how we could best help the teams that were affected by the devastation of Hurricane Ike on the Gulf Coast. It was determined that all the teams from the Galveston, Bridge City and La Porte area were most affected by widespread destruction and devastation.

Each of the companies have agreed to offer free contest registration fees to these teams for the 2009 season, along with sending t-shirts and dancewear to help. The National Council of Dance has also contacted other businesses within our industry that are poised and ready to help as well. (see participating companies below)
The NCD company owners are renowned and respected leaders within the industry receiving honors such as Lifetime Achievement, Honorary Lifetime Members, Hall of Fame and other distinguished recognition within the industry. The companies are American Dance/Drill Team®, Just for Kix, Marching Auxiliaries/MA Dance, ShowMakers of America®, ShowTime International, and Starmakers Dance and Performance Camps.
Other companies that have offered help, in addition to the National Council of Dance companies, are In Step Props, Happy Feet Boots, The Costume Closet, Prop Warehouse, Curtain Call Costumes, Dance Etc.
The National Council of Dance companies will be offering a special t-shirt during this contest season at their events, where the proceeds will go directly to the teams affected by Ike. This way, many of you in the dance/drill team world will be able to contribute, in a small way to help in a big way, each of the teams that have lost much. The companies will be sending cash weekly, from the sales of this shirt, to the teams in the devastated areas, so that they can rebuild their dance rooms, costume inventory and practice wear. All individuals that purchase these shirts (see design at top of the page) will be asked to gather for a group photo that will be posted on this web site in a show of solidarity and support.